Falls Creek Music Camps
presented by bach2roq and High Plains Providores
for
Schools and Clubs
Corporate
Community groups
bach2roq and High Plains Providores are pleased to offer music camps at Falls Creek, the delightful mountain resort in North-Eastern Victoria, one of the leading alpine venues in Australia. bach2roq has over 30 years experience in music education, specialising is group and solo tuition in a wide range of styles and levels. High Plains Providores has more than 30 years experience in alpine hospitality. Together they combine there cultural interests in providing a most unique opportunity to learn, play and record music on the mountain and experience the rarefied pleasures of the terra at altitude. It's a chance to
learn new music, styles and techniques

meet and play with other musicians with similar interests

do some hiking or skiing

record your own cd

enjoy the alpine culture

do something for yourself

develop a positive team experience
| | | | | | | |
| --- | --- | --- | --- | --- | --- | --- |
| rock groups | jazz groups | vocal groups | chamber groups | soloists | theory & aural training | orchestras |
and also combine this with (subject to availability)
skiing during winter*

hiking in summer

national coaches of altitude alpine training*

bushwalking

fishing including fly fishing lessons*

mountain biking*

horse riding

winery tours*

local farm gate products*

bunjee trampoline*

health spas*

sunset tours of the peaks*

ecological tours of the tundra*

local industries eg hydroelectric*
and of course
For corporate camps there are also
meeting rooms

conference facilities, including computer, data projector*

specialised development programs*
*extra fees apply, quotes on application
The music camps are for anyone who can or wants to participate in music. This can accommodate students of all levels - from beginners to advanced, and of a range of styles from classical to rock. Music sessions are generally in a group format, although solo lessons in some cases will be considered, depending on enrolments.

Duration The camps may last from 3 day weekend (Friday-Sunday) or 5 day (Monday-Friday) and will commence

Day one of the camps involve enrolments, group assignments, timetable, and a workshop of the aims of the camp. The playing sessions start as soon as possible after that.
Days 2- the final day include:
cooked or continental breakfast from 7.30am

lessons & workshops from 8 am-12noon

lunch provided (12 noon) · free time in afternoon for the electives and practise

cooked evening meal at 7pm with music provided by teachers and students

evening performance sessions may occur
The last evening/afternoon will involve a concert for all participants (optional). We would like everyone to perform, even if in a group. This gives you something to aim for during the sessions. Group performance is encouraged. Solo performance is optional - we realize that performance is stressful, and will provide every encouragement.
Students should arrange to bring their own instrument(s) and arrive on day one to be prepared for lessons to start in the afternoon.
Instruments will be available for sale or hire. Orders should be should be made on booking.
Students will be assigned to a teacher in a group with other students of similar interests and abilities. The exact assignment of the groups will depend on the students that enrol. This will be determined on day one. In most cases we would expect to have some idea of the level of students when they enrol to assist the planning.
Evening meal & performances The evening meals are a highlight at the local lodges. The cuisine is superb, and the company always pleasant. Lyn, your host at High Plains Providors, has a unique ability to make everyone feel at home. Added to this will be live music from the teachers and students. They can sit back and relax, and take notes - or maybe do better.
Styles of music offered - a range of musical styles will be taught - from classical, jazz, rock and pop. See www.bachroq.com for a range of music that is offered.
Sheet music will also be provided at the camp but students are encouraged to contribute music to the classes. We encourage groups to suggest a syllabus as soon as possible after enrolment.
---
Fees on application
Schools program (minimum 15 students) from $170 per day

Corporate program (minimum 5 staff) on appication

A single Payment in full at time of booking by cheque or credit cards only.

---
All enquiries and bookings:
Lyn Greene
Manager, High Plain Providors
tel 03 57583346

email: lyn@highplainsprovidores.com.au
REGISTRATION DETAILS

Each student should provide the following information upon registration:


| | |
| --- | --- |
| Name | |
| Address | |
| Suburb | |
| Phone | |
| Fax | |
| Mobile | |
| Email | |
It is the responsibility of a nominated group leader to collate all information on students, and apyments.

Briefly answer the following questions:

· Which instrument(s)/vocal group will you be enrolling in?
· How many people will accompany you (not enrolled students)?
· How many years have you played/sung?
· Do you have an instrument (not required for vocalists)?
· Do you need to buy or hire and instrument for the camp?
· Have you attempted music grades? If so, what grade and organization eg Grade 2 AMEB
· What is your musical preference eg classical, jazz, rock, pop, folk…?
· What do you expect to get out of the camp?
· Tells us a little about yourself:


---
Falls Creek, one of Australia's leading ski resorts, is situated in North-East Victoria, about 30 minutes drive from Mt Beauty (about 4 hours from Melbourne)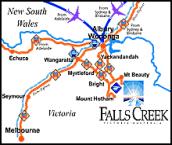 Falls Creek
See you there